Sedbergh Public School: School book & magazine collection now online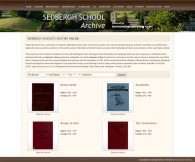 "We are extremely proud of the work we have undertaken for Sedbergh School and the feedback we have had has been extremely positive.
The UK is fortunate to have such a large number of public schools that are steeped in history and tradition.  Fortunately many of these schools retain an archive of books, photographs and other fascinating materials.
Digitising this sort of archive is not only of interest to Old Sedberghians, but I'm sure it will also be of immense interest to those that are considering attending the school in the future.  A school such as this is famous for it's history and tradition which is part of the reason why a school such as this continues to be a popular choice for future pupils."
Paul Sugden
MD, TownsWeb Archiving Ltd
About the school
The attractive old market town of Sedbergh, with its old world atmosphere, is not only set in the magnificent western dales of the Yorkshire Dales National Park, but is also close to the rugged eastern fells of the Lake District. It has developed at the confluence of four rivers, where ancient trade routes merged.
Sedbergh is famous for its public school, set in magnificent parkland on the edge of the town.  Founded in 1525 Sedbergh School has an impressive history, excellent facilities and a host of famous alumni. The thriving Senior School has 450 pupils ranging in age from 13 to 18 years, who are supported by 80 qualified and committed teaching staff, coaches and pastoral care specialists. Their preparatory school of 130 boys and girls aged 4-13 lies within the grounds.
About the school archive
The school archive documents the rich history of Sedbergh School. The collection includes documents from 1527 to the present day.
Using records such as photographs, diaries, registers, punishments books and sports journals researchers are able to trace famous pupils, family members and interesting events at the school.
The Archive also holds the school's 'Special Collections' of books relating to Sedbergh and Old Sedberghian which allow researchers to conduct much of their research at Sedbergh.
Background
It was decided that the school publications that are used the most often should be digitised to allow researchers anywhere in the world to access information about themselves as well as their Sedberghian friends and ancestors.
TownsWeb Archiving Ltd (TWA) were approached by staff at the school and were asked how they could assist in the project.
Proposal
Sedbergh School staff and TWA's technical team put together the following plan of action:
The school would deliver more than 200 school books and magazines to TWA at their studios in Kettering.
TWA would digitise the collection and for each scan produce a high quality tiff and surrogate jpeg.
TWA would provide a searchable OCR'd PDF for each complete publication.
TWA would design a new School Archive website for the purpose of displaying the digitised publications.  The design would follow the same format  as the existing school website www.sedberghschool.org.
The OCR'd text would be extracted from the PDF's and uploaded to an online database and then associated/linked with each of the surrogate Jpeg images.
All publications would then be searchable via the TWA DocView system.
The TWA DocView system would allow browsing and also full text searching across single titles or multiple titles.
The TWA DocView system would allow browsing and searching by year (1938 to present).
The TWA DocView system would allow individual pages to be downloaded from the website and also parts of an image to be copied to the clipboard.
As this project was being funded by donations from the Old Sedberghian Club, Sedbergh School Foundation and Sedbergh School as well as generous contributions from individuals, the website included a feature to highlight and display the sponsors.  This would hopefully encourage future sponsors to enable more digitisation work to be carried out.
Implementation
The new Sedbergh School Archives website is now live and can be found at:
www.sedberghschoolarchives.org
Further information
If you would like more information about DocView and to read more case studies then please visit:
www.townswebarchiving.com/casestudies
Contact us
TownsWeb Archiving Ltd provide a free and without obligation site survey and quotation service.  If you would like to discuss your requirements or to arrange a meeting with one of our Digitisation Consultants then please contact us.
TownsWeb Archiving Ltd can be contacted on 01536 713834 and email: [email protected].