Admissions & Commissions – Online archive for Sandhurst Military Academy

The history of the Royal Military Academy Sandhurst goes back to 1741. The nineteenth century records of Officer Cadet admissions and commissions are held in hefty bound registers containing some 78,000 handwritten entries. To preserve the original volumes and at the same time make them more accessible to military and family historians, RMAS has now made these valuable sources of information available online.
TownsWeb undertook both the transcription and digitisation of the registers. The registers are in daily use, so for the first stage of the programme it was essential for TownsWeb to carry out the scanning of each page on site. TownsWeb provided staff and a portable flat bed rig capable of handling the large format registers and, with the help of archive staff, completed the digital scanning of each volume. Back in the studio any cropping or contrast adjustments needed to improve legibility were carried out by TownsWeb's digital technicians.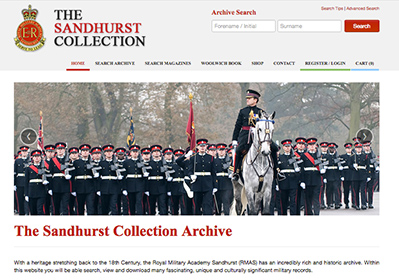 Transcriptions were made directly from the digital images themselves. The transcriptions captured the essential searchable data fields: surname, forename, year of admission and year of commission. The TownsWeb software development team built the website and search engine. Anyone can now search the online registers free of charge, and then request a downloadable PDF of the actual page containing the record. Users are provided with a secure online payment gateway for this chargeable part of the service.
As the use of the service increases, the opportunity to generate a useful income stream will grow. But, just as importantly, the initiative represents a significant step forward in the planned digitisation of the RMAS archive. The next stages will be to add more information linked to individual entries. That is likely to include such things as yearly reports, campaign records and the original cadet application information.
'We are putting the archive online as funding permits, so the opportunity to generate income is welcome. Family historians are our biggest market, so the next stage will be to add further records such as personal information sheets and correspondence to fill out the history of individual officers. We are very happy with the services TownsWeb provide in helping us achieve those aims.'
Dr Anthony Morton, Curator, The Sandhurst Collection
'The transcription of the registers has helped iron out any anomalies in the chronological sequence and facilitated the online search service. By using the same teams for all our military museums transcription services we've built an understanding of terminology and military references that guarantees a high standard of accuracy.'
Simon Chandler-Barratt, Digitisation Consultant, TownsWeb Archiving
http://archive.sandhurstcollection.co.uk/
TownsWeb Archiving Ltd can be contacted on 01536 713834 or via email at [email protected]