Live updating of digital records for Purdey Gun & Rifle Makers
James Purdey & Sons, one of the world's most prestigious gun makers, has held a Royal Warrant since 1868 and has been supplying the rich and famous with guns since the Battle of Waterloo.

Historic sales transactions, along with manual records of new purchases and changes made to previously sold guns, are kept in 35 bound registers. Purdey's needed to create digital copies of each of the registers for disaster recovery and for faster and more convenient access to individual records. Unusually, as well as needing to add new records to the database that TownsWeb Archiving were commissioned to create, the company also wanted the facility to go on making manual amendments to the digitised records.
Although some of the pages had already been transferred to microfiche, many images were of poor quality. The decision was taken to digitise all the register pages, adding up to some 10,000 pages in total.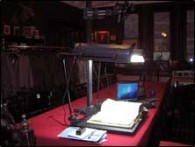 Since the registers were in continuous use, the scanning was conducted on site at Purdey's Audley Street premises. The imaging was completed over three days. Each file was given a unique sequential reference number within a logically structured directory. In order to make the records searchable, essential data fields were captured so that staff could locate individual records by gun type and date. The image files were supplied to Purdey's in greyscale TIFF and JPEG formats on a single external hard drive. TownsWeb holds a further backup of the drive.
Software Solutions
TownsWeb provided Purdey's with two software solutions. The first has allowed staff to search images on the database by entering the gun type and/or date. The relevant pages can then be viewed, printed, emailed or faxed, and pasted into other applications such as Microsoft Word. Further records can also be added to the database.
Secondly, software was provided to allow page images to be opened and graphically changed. Staff wanted to retain the authenticity of the gun books and continue to make changes to the records, which they can now do electronically rather than by hand. Staff training in the use of the software applications was provided.
'TownsWeb Archiving have digitised some of our most valuable and oldest items, for this and for other projects. The quality of the images produced were second to none. We will certainly be using TownsWeb Archiving again.'
Sharon Thurston, James Purdey & Sons
TownsWeb Archiving Ltd can be contacted on 01536 713834 or via email at [email protected].