Where There's a Will – Piloting the digitisation of wills and probate registers for Borthwick Institute for Archives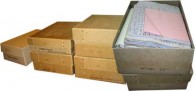 The University of York's Borthwick Institute for Archives is one of the biggest archive depositories outside London, housed in a new purpose-built facility that offers archive access to thousands of visitors each year.
Some of the older and more fragile documents would benefit from digitisation and indexing, and allow greater public access online – but where to begin among the huge volume of archived material? Following a consultancy meeting between TownsWeb Archiving and Institute staff, it was agreed to set up a pilot project to digitise part of a substantial collection of medieval, early modern and modern wills from the probate archive. The aims of the pilot were to establish
the length of time needed to scan and process various types of documents
how long it would take to index them
the quality and appropriate file sizes of the digital images
And thereby estimate the timescale and costs for further digitisation.
Testing & Reporting

The Institute houses some 5,000 boxes of wills, each containing 100 three or four page wills, and 40 probate registers each with 200 page openings. The final output would be close to two million digital images. A selection of wills and registers was made for the pilot project and scanning was completed using onsite portable equipment for handling the documents, which were in flat sheets, rolls and book format. Some indexing was carried out during the digitisation process to assess the feasibility of simultaneous indexing compared with post-digitisation indexing from the final images.
The digitised images were processed to TIFF and JPEG formats at 300dpi, and compressed files were also supplied for online download. Further indexing was in fact completed following digitisation, and the images and database uploaded to a web server. TownsWeb developed the search software to allow the images to be found and read in Adobe Acrobat Viewer. The pilot provides a test bed for Institute staff and potential future project funders to see what can be achieved.
At the end of the project TownsWeb produced a report on timings for different types of documents, how the condition of documents affected the digitisation process, the most efficient ways of indexing the images, the preferred file sizes for different purposes. The pilot project and the report have provided the Borthwick Institute with a way forward for the future.
'TownsWeb Archiving were efficient and accurate, producing high quality images and providing a detailed and comprehensive final report. On site, TownsWeb staff worked well with Institute staff and handled archives carefully and appropriately. I would be pleased to work with them again.'
Chris Web, Keeper of Archives, Borthwick Institute
https://www.townswebarchiving.com/borthwick/
TownsWeb Archiving Ltd can be contacted on 01536 713834 or via email at [email protected].