PastView Chronicle
PastView Chronicle
Manage and publish your cemetery & crematorium records for instant online access
Trusted to manage, publish and preserve over 10 million digitally archived items, providing access for everyone interested in your deceased records from genealogists, to researchers, to family members.
Manage your digital burial and cremation records online, with the ability to assign fields such as cemetery, section, grave number, deceased name and date of burial. You can also connect headstone photographs, newspaper obituaries and other related items to the digitised register pages. Then publish your items online to your PastView Chronicle website, telling the rich story of your collection with just the click of a button, with the flexibility to charge for public access.
Request a PastView Demo
The Professional's Choice for Cemetery Records Publishing

Simple Searchability For Your Staff
Search and update your records instantly

Publish Your Collection Online
Full control to decide what to publish on your website

Revenue Generation Capabilities
Providing the flexibility to charge for images from your registers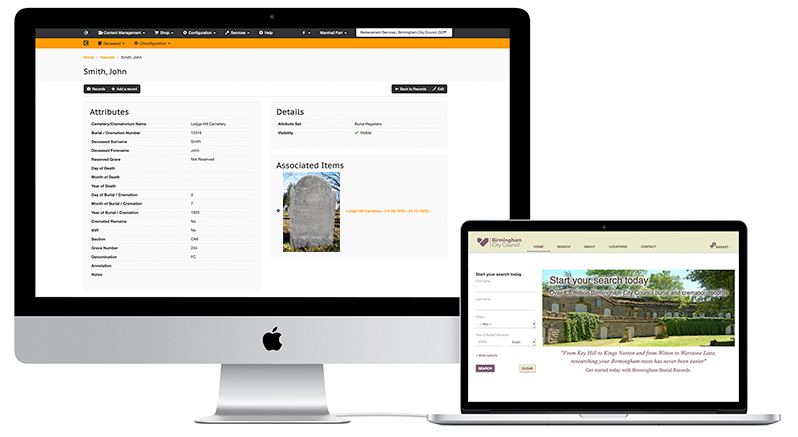 Capture. Publish. Access.
PastView Chronicle gives you the control to manage and publish
your cemetery & crematorium records online.

30+
PastView Clients.

1M+
Items Published.
1.2M+
Website Visitors.

20K+
Online Transactions.
PastView Chronicle Comes With:

Manage and publish your digital cemetery & crematorium data for instant online access
from

£9,995

+ Annual Costs
Key Features
Bespoke or templated website

The costing provided is for a templated website, please get in touch for the cost of PastView Chronicle with a bespoke website

for online user-access
Upload up to 10k records

Your items can include images such as digitised books, photographs, records etc. More than 10k records can be uploaded at an additional cost.

Simple record upload and editing
Secure off-site cloud backup
Flexible revenue generation capabilities

The costing provided is excluding revenue generation. The revenue generation module can be included from £1000

Protect your images using customisable watermarks
High-Res zoom using page explorer
3D Page turning using book explorer
Publishing with PastView Chronicle

PastView Chronicle helped Birmingham City Council publish their newly digitised cremation and burial records online, for the benefit of their staff and members of the public too. Opening opportunities for revenue generation and a high quality user-friendly search facility, that everyone could use, meant PastView Chronicle was the perfect choice and fit.

We tell you all about it here, in Phase 2 of our Birmingham Burials case study.
Read The Case Study
Have you considered a virtual tour of your cemetery?
A virtual tour is the perfect way to give family & friends, genealogists and researchers the freedom to explore your cemetery online. Our exciting new VR tours integrate directly with your PastView Chronicle system, allowing all the information about a gravestone to be instantly visible online, at the click of a button.

To learn more about our new Virtual Tour Sevice, click below:


Learn More About Our Virtual Tour Service
Request a PastView Demo
If you would like to find out more about our services, please contact us.