Microfiche Scanning
Microfiche Scanning
Whilst microfiche offers a fairly compact form of storage they can require expensive readers and printers, which can only be used by one person and are prone to breaking down. Unless you also have backup copies stored in a fire safe or off site, they may also be just as prone to disaster as the original documents. At TownsWeb Archiving we can scan your microfiche sheets and archive them with all your other documents, so any user can access them instantly from their desktop.
Find out how much your project could cost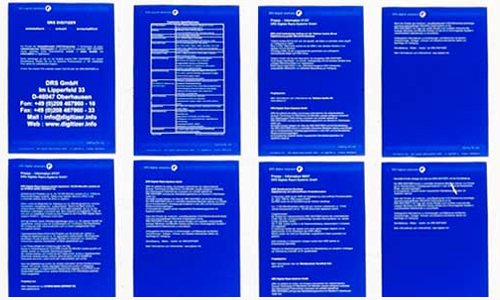 Why use TownsWeb Archiving?
Expert Digitisation Consultants
A wealth of experience in working together to develop the right plan to reach your goals for preservation.
Trusted By Archives Throughout The UK
Working with some of the largest organisations in the UK, we understand the long-term risks to your archive.
In-House Collection and Delivery Service
To guarantee secure collection and delivery, your valuable material never leaves our sight.
Accredited Digitisation Studio Team
Fully trained and experienced in the handling and digitisation of your most delicate artefacts.
Unique Web Publishing Platform
Publish with PastView to manage, provide access and generate revenue from your digital archive.

I can safely say that with TownsWeb I happily recommended them to other companies for similar scanning and digitisation [projects] because I know they can be trusted. They can be relied upon to get the job done… they get it right, first time, every time.
Project Manager

TownsWeb offered us a complete end-to-end service, from scanning and transcription, to web design and content management software. Their work was completed quickly and to a high standard, and we are extremely pleased with the results.
Information & Archives Officer

We are delighted with the results. Without TownsWeb Archiving's services we could not have completed the work in time and on budget. Their staff have been nothing but approachable, helpful and attentive and I can strongly recommend their services.
Head of Digital
Digitisation Frequently Asked Questions
We digitise (or "scan") microfiche by using specialist advanced equipment to capture extremely high resolution images.
During the image capture process, we can also organise the digital image files by incorporating metadata into the filenames; such as the date they were taken or what equipment was used to capture them.
Digitising microfiche collections can ensure that unique and valuable content is preserved in digital form, in case the worst should happen and the originals become damaged or destroyed. This high resolution digital back up can then be used to reprint the images if necessary.
Once you have a digital library of microfiche images we can help you index, transcribe and add appropriate metadata. We can help you maintain your image collection by importing the files and metadata into our PastView content management system (or into your own existing system).
If you are interested in displaying your images online for the public to view then we can build complete archive websites (or web pages that sit within your existing website) that allow fast advanced searching and incorporate payment gateways so that the public can find and then pay for physical prints or digital copies of your images. Find out more about our Software and Website Design services.
We can also provide improved access to your collections and increase the speed of finding images, by enabling searching. Attaching metadata to the digitised images allows for quick keyword searching through the digitised collections.
As specialists in digitising fragile archive collections, our scanning staff are fully trained in professional handling procedures for working with delicate books and employ a gentle, "white gloves" approach at all times, to ensure no harm comes to the materials.
We utilise unique, specialist flatbed scanners, which place the absolute minimum of pressure on the microfiche and mitigate any chance of damaging the precious original materials during the digitisation process. We can scan any size microfiche in a variety of DPI and output types.
Our equipment can cope with jacket, roll, COM, 35mm aperture card or any other form of microfiche data.
The final images, if originally microfiched to a good standard, will be just as high quality as a direct scan of the original document or drawing with up to 400 DPI resolution across the original sheet size.
We appreciate that your microfiche collections are very valuable and so you may not want them to be moved from your premises. For this reason we offer an on-site digitisation service and are happy to travel to your premises with our staff and equipment to scan your microfiche collections.
However, if you are comfortable allowing your collection to be transported to our digitisation studios for scanning, we are also happy to collect and return from your premises, using our own specially trained staff and GPS tracked vehicles. Find out more about our on-site & off-site scanning service.
As standard practice, we produce image files in TIFF and JPEG formats, although we can also produce other file formats including PDF, PDF/A, JPEG 2000, and BMP; depending on the requirements of the project/client. Images can be produced in full colour or greyscale, and we can enhance or graphically restore them too.
Would you like more information?
If you would like to learn more about our services or request a free quotation, please feel free to contact us.

CALL US
01536 713834

REQUEST A FREE
QUOTATION

USE OUR ONLINE
QUOTE CALCULATOR