Digitising The Lairs – Digitisation of Renfrewshire Council cemetery registers & plot maps, data capture of records & provision of searching software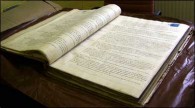 Renfrewshire Council keeps cemetery and crematorium records dating back to the eighteenth century. The historical handwritten records are held in bound registers, and the lairs (graves) are marked on large sectional maps. The registers are heavy, and the maps themselves unwieldy. With only one unique copy of everything, it was important for the Council to create digital copies, both for disaster recovery and for improving staff access to individual records.
Following a competitive tender process, TownsWeb Archiving was appointed to digitise the registers and the plot maps. The digitisation of the registers was carried out on site using only flatbed, non-contact equipment. The 150 year old maps were removed for scanning at TownsWeb's studio using specialist equipment designed to scan large documents at high resolution. The whole project was completed over a two month period.
Each page image of the registers was processed in TIFF and JPEG formats at 300dpi and greyscale. Individual page images were named and cross-referenced to the cemetery and the original register page. Every one of the 140,000 manual records in more than 150 volumes was transcribed and validated from the digital images, and the captured records re-supplied as both text files and spreadsheets. The maps were processed as full colour high resolution images, but also supplied as smaller files for ease of access.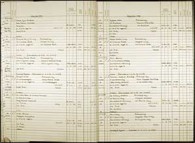 TownsWeb Archiving supplied its proprietary book viewing software to Renfrewshire, enabling council staff to find burial records by cemetery, section, lair number, deceased name and date of burial. The system also captured all the lair numbers from the cemetery maps to provide staff with the facility to search the maps and sections by entering a cemetery name, section and lair number. The software allows staff to continue to maintain cemetery records and provide fast and accurate retrieval of information.
'TownsWeb Archiving's experience in the bereavement services sector meant we were confident in their ability to carefully handle our nineteenth century registers and produce images to the required quality and format. Their professional yet friendly and pragmatic approach meant that the project and any issues raised along the way were handled superbly well. We can recommend their speed of work, quality of output and extreme cost-effectiveness.'
Helen Elder, Renfrewshire Council
TownsWeb Archiving Ltd can be contacted on 01536 713834 or via email at [email protected].