Putting The Record Online – Digitisation of Spennymoor Town Council cemetery registers & plot maps, administration of records & displaying records online

The Town Council is responsible for two cemeteries and for providing public access to cemetery records. Plots are marked on cemetery maps and burial records have been handwritten into bound registers since the mid-nineteenth century. The Town Council decided to digitise the maps and the registers to safeguard them and to provide easier ways of searching the records.
The scanning of the registers was carried out on site with portable equipment, but some of the larger maps were scanned at TownsWeb's studio. All the images were supplied at 300dpi in TIFF and JPEG formats on a single external hard drive.
Data was captured from the scanned page images and carefully checked for accuracy, particularly since many of the entries had faded over time. TownsWeb Archiving prides itself on achieving very high levels of accuracy during the transcription process carried out by its experienced teams. The typed records were then linked to the digitised pages.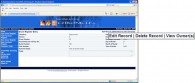 An important aspect of this two month project was the provision of software solutions to the Town Council for both ongoing maintenance and administration and to provide an online gateway for family and genealogy researchers. Staff were provided with TownsWeb's Chronicle Lite bereavement administration system which allows staff secure internet access from any location. All records link to page images of the grave, burial and owner registers. TownsWeb also developed the online search engine that now gives the public access to the cemetery database searchable by predefined fields, including cemetery and section, deceased name, age at death and date of burial:
https://www.townswebarchiving.com/SpennymoorSearch/
"We searched the marketplace to find an experienced company that could scan our cemetery registers and maps, transcribe their contents.We decided to go with TownsWeb Archiving Ltd because they were very price competitive and they provided us with some very clear and accurate samples. More importantly they had been highly recommended to us by two other London Borough's.We are completely happy with the service that TownsWeb Archiving have provided. They collected and returned our books and maps within the timescales that we had requested. They provided a 'lookup' service when we needed information from the books. The images that they provided were excellent. The transcribed data from the hand-written records is very accurate. TownsWeb were efficient and accurate in their work, highly professional and friendly in their service. We would recommend TownsWeb Archiving Ltd to any Bereavement Service thinking of carrying out the essential task of backing up hard copies and digitising their cemetery registers, records and maps."
TownsWeb Archiving Ltd can be contacted on 01536 713834 or via email at [email protected].