Couldn't Do Better – Digitising old school ledgers for The Scottish Borders Heritage Hub
The Heart of Hawick Heritage Hub is the Scottish Borders Archive and Local History Centre, a new climate controlled heritage facility for the people of the wider Borders region.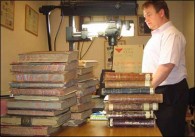 The centre's collection of old school log books or admission registers is an invaluable source of information for family researchers, with handwritten logs of pupil attendance and reports on achievement (or lack of). Many of the 112 log books, some dating back to the 18th century, representing the school record up to 1900, were in a poor or fragile condition.
Digitisation of this unique collection was seen as essential so that records could be more easily accessed through the internal network. At the same time, digitisation would provide the Heritage Hub with the means to reprint the entire contents if required, and ultimately to make the log books available to the public online.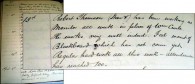 Because the log books were in regular use, it was agreed that TownsWeb technicians would carry out the digitisation of some 31,264 pages at the centre's premises. After making a feasibility assessment as part of TownsWeb's free consultancy service, technicians provided portable flatbed scanners and remained on site throughout the project.
The images were processed off site and supplied in full colour TIFF and JPEG formats on an external hard drive. The compressed JPEG images will allow the Heritage Hub to provide these as online downloads. The images were indexed to match the original ledgers.
'The whole process was done quickly and efficiently, with no disruption to the enquiry service. We are extremely pleased with the quality of the digitised records and highly recommend TownsWeb Archiving for onsite and offsite digitisation projects.'
Jane Petrie, Archivist, Scottish Borders Council
TownsWeb Archiving can be contacted on 01536 713834 or via email at [email protected].