Registers & Personnel Records
TownsWeb Archiving's digitisation technicians have a wealth of experience in the digitisation of registers and personnel records.
These are often too valuable or fragile to be unbound for scanning conversion, so our specialised overhead scanning equipment captures the entire page while sophisticated software provides curvature correction on all pages.
Digitisation not only protects material from loss or damage, but also makes the records more accessible through handwritten transcription. Our team can transcribe those all important details in order to make the content fully searchable, transcribing into fields such as forename, surname, date of birth, date of death and location, for example.
Find out how much your project could cost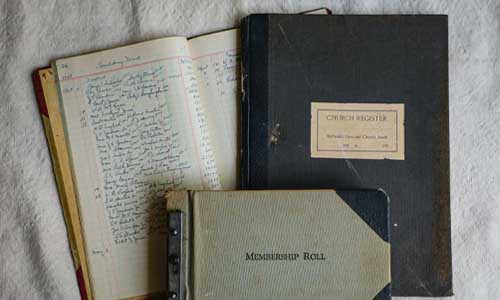 Visit our digitisation studio – See how our Book Scanning service works
Hear what our clients have to say about our digitisation services

TownsWeb Archiving have proved very able and extremely helpful in supporting us to bring a local heritage alive for local people. We would certainly recommend TownsWeb Archiving to other libraries, museums and archives.
Exhibition and Display Officer

We are delighted with the results. Without TownsWeb Archiving's services we could not have completed the work in time and on budget. Their staff have been nothing but approachable, helpful and attentive and I can strongly recommend their services.
Head of Digital

TownsWeb offered us a complete end-to-end service, from scanning and transcription, to web design and content management software. Their work was completed quickly and to a high standard, and we are extremely pleased with the results.
Information & Archives Officer
Digitisation Frequently Asked Questions
We use bespoke large-format, high-resolution equipment for planetary scanning, and have a range of high-resolution cameras offering non-contact capture of your precious material.
Our equipment can capture single page or double-page spreads creating output formats in TIFF, JPEG (JPEG2000), PDF (PDFA), or any other industry-standard image format you may require. We can also create further surrogate files, such as MS Excel Spreadsheets, OCR'd multi-page PDFs, MS Word and eBooks.
All files are captured by our highly trained digitisation technicians using overhead, daylight balanced, non-heat producing lighting before undergoing a formal quality assurance checking procedure. The final step in the process is the delivery of your electronic files by hard drive.
Calculate the cost of your digitisation project
Enter your digitisation requirements and tick the box to confirm whether you would like us to get in touch to discuss your requirements further. If you're not quite ready to use our online quote calculator, feel free to call on 01536 713834 or email us [email protected]
Quote assumptions and specifications
Size: Up to A2 (Open)
Folder Naming: Bound Volume Reference (example: "YYYY-Diary-Name")
File Naming: Sequential (example: "YYYY-Diary-Name_001.tif", "YYYY-Diary-Name_002.tif" etc.)
Resolution: 300 PPI
File Formats: TIFF, JPEG (included) and OCR'd Multipage PDF (if selected)
Pre/Post Processing: Image adjustments, rotation, flipping, cropping excluded
Quality Checking: Fees included
Size: Up to A2 (Open)
Folder Naming: Journal/Magazine Reference (example: "Issue-No_001")
File Naming: Sequential (example: "Issue-No_001_001.tif", "Issue-No_001_002.tif" etc.)
Resolution: 300 PPI
File Formats: TIFF, JPEG (included) and OCR'd Multipage PDF (if selected)
Pre/Post Processing: Image adjustments, rotation, flipping, cropping excluded
Quality Checking: Fees included
Size: Up to A2 (Open)
Folder Naming: Leaflet/Pamphlet Reference (example: "Issue-No_001")
File Naming: Sequential (example: "Issue-No_001_001.tif", "Issue-No_001_002.tif" etc.)
Resolution: 300 PPI
File Formats: TIFF, JPEG (included) and OCR'd Multipage PDF (if selected)
Pre/Post Processing: Image adjustments, rotation, flipping, cropping excluded
Quality Checking: Fees included
Size: Up to A2 (Open)
Folder Naming: Bound Volume Reference (example: "Manuscript-Name")
File Naming: Sequential (example: "Manuscript-Name_001.tif", "Manuscript-Name_002.tif" etc.)
Resolution: 300 PPI
File Formats: TIFF, JPEG (included) and OCR'd Multipage PDF (if selected)
Pre/Post Processing: Image adjustments, rotation, flipping, cropping excluded
Quality Checking: Fees included
Size: Up to A1 (Open)
Folder Naming: Bound Volume Reference (example: "Newspaper-Issue")
File Naming: Sequential (example: "Newspaper-Issue_001.tif", "Newspaper-Issue_002.tif" etc.)
Resolution: 200 PPI
File Formats: TIFF, JPEG (included) and OCR'd Multipage PDF (if selected)
Pre/Post Processing: Image adjustments, rotation, flipping, cropping excluded
Quality Checking: Fees included
Size: Up to A1 (Open)
Folder Naming: Bound Volume Reference (example: "Photograph-Album")
File Naming: Sequential (example: "Photograph-Album_001.tif", "Photograph-Album_002.tif" etc.)
Resolution: 200 PPI
File Formats: TIFF, JPEG (included) and OCR'd Multipage PDF (if selected)
Pre/Post Processing: Image adjustments, rotation, flipping, cropping excluded
Quality Checking: Fees included
Size: Up to A2 (Open)
Folder Naming: Bound Volume Reference (example: "Volume-Name")
File Naming: Sequential (example: "Volume-Name_001.tif", "Volume-Name_002.tif" etc.)
Resolution: 300 PPI
File Formats: TIFF, JPEG (included) and OCR'd Multipage PDF (if selected)
Pre/Post Processing: Image adjustments, rotation, flipping, cropping excluded
Quality Checking: Fees included
Size: Up to A1 (Open)
Folder Naming: Bound Volume Reference (example: "Register-Name")
File Naming: Sequential (example: "Register-Name_001.tif", "Register-Name_002.tif" etc.)
Resolution: 200 PPI
File Formats: TIFF, JPEG (included) and OCR'd Multipage PDF (if selected)
Pre/Post Processing: Image adjustments, rotation, flipping, cropping excluded
Quality Checking: Fees included