Explore The Features
Publishing with Enterprise & Enterprise Pro
Choosing PastView to publish your digital material is like opening the gates to an archive wonderland. With so much to choose from, and boasting a design team that's forward thinking and innovative in their approach to accessibility and usability, the future's exciting with PastView. Pick and choose, depending on your package, or tell us what you would like to see. If you can picture it, it's likely that we can create it. Take a look at some of our popular features below.
Management with with Enterprise & Enterprise Pro
With PastView you are always in control of the content you upload and publish, managing how you want your users to see and access it. Upload your entire archive straight away, or grow your collections over time. Set restrictions and protect your data through watermarking while considering options for revenue generation by 'turning on' available features, such as paid downloads and subscriptions. Being in control never felt so liberating.
Explore Publishing Features
Explore Management Features
Publishing Features of Enterprise & Enterprise Pro
Management Features of Enterprise & Enterprise Pro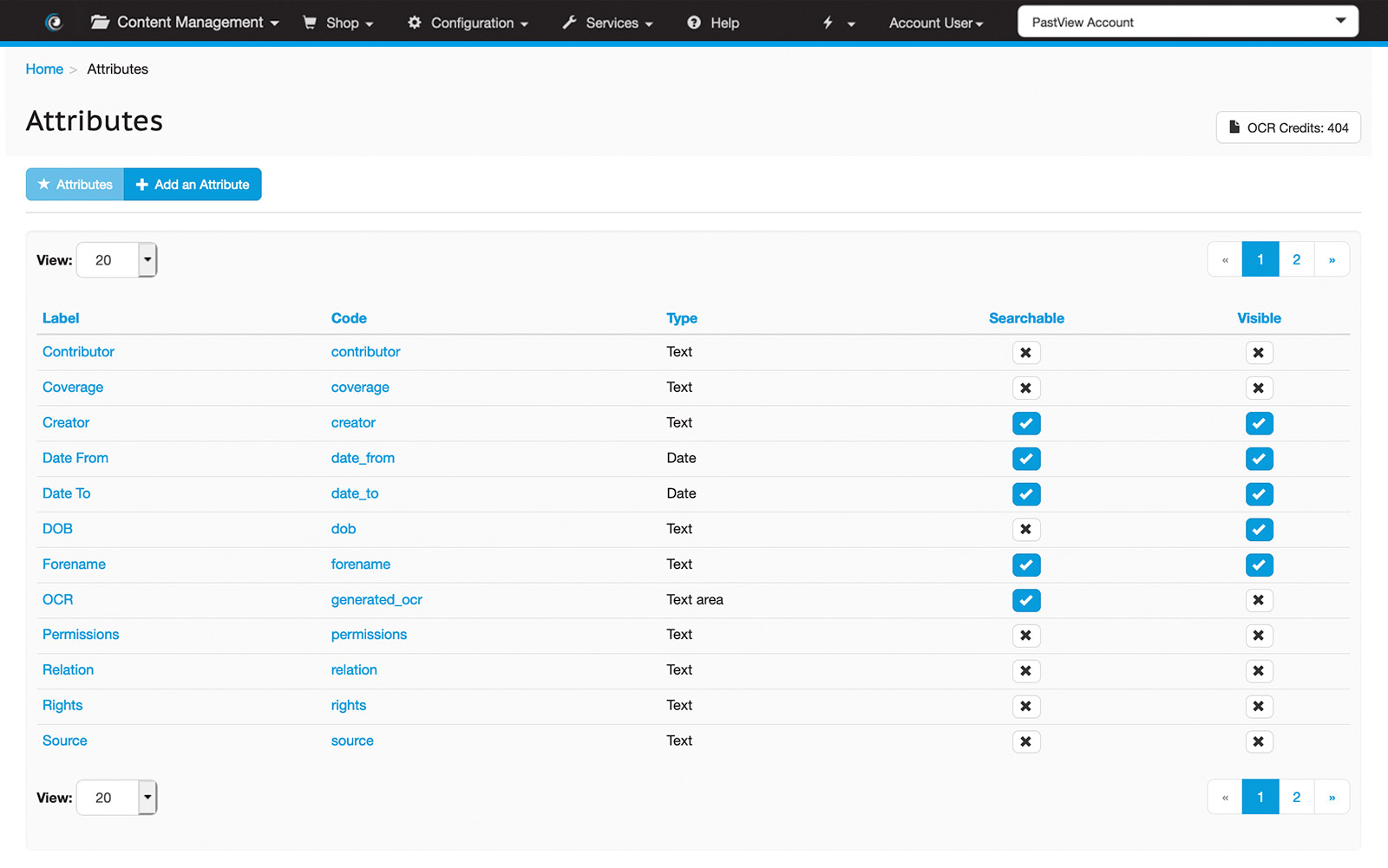 Attributes
It is important to be able to organise your data as efficiently as possible. Consequently, at the point of upload, PastView's advanced database enables each individual item to be assigned relevant attributes, for example the date a photograph was taken, the title, the name of the photographer or the author. These attributes can then be organised into attribute sets: the usual list of attributes you would expect to record for a specific type of item. This data entry process is vital for the smooth and efficient structure of your collection and these attributes will go on to drive the search behind your collections and help to form the specific searchable fields to aid access and searchability.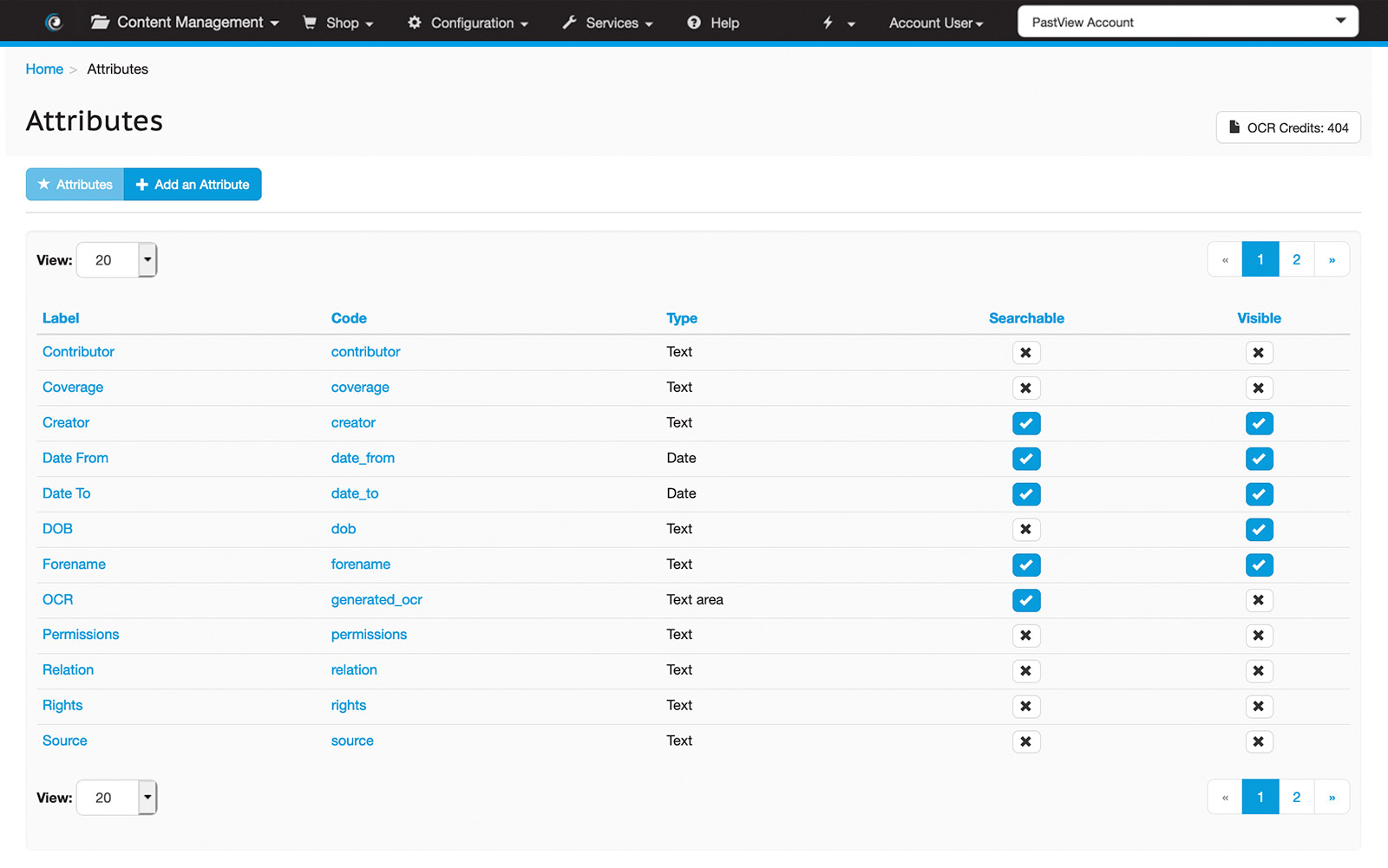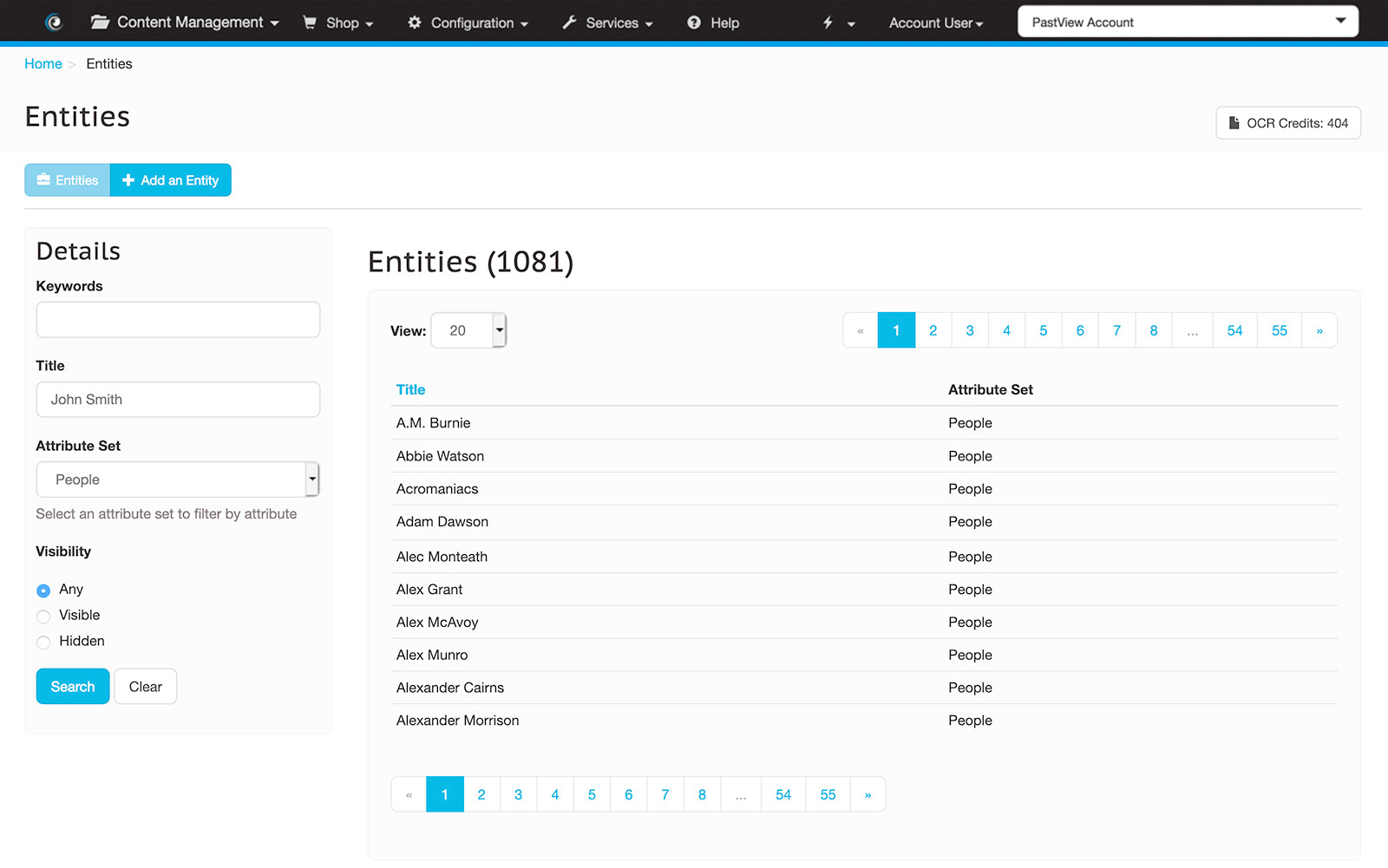 Entities
Taking the attributes feature further, PastView also allows you to determine entities within your collections: any specific person, place or thing that could be tagged to make connections between items and bring them together. For 'person' it might be all surgeons or musicians that are tagged. For 'place' it might be hospitals or venues. For 'thing' it might be surgical or even musical instruments. Each entity will have its own attribute set: all of the things that make up the qualities of that entity. So for 'person' it might be first name, last name, date of birth or occupation. Together with the attributes, attribute sets and entities, your database will be totally connected and can take full advantage of cross collection searching.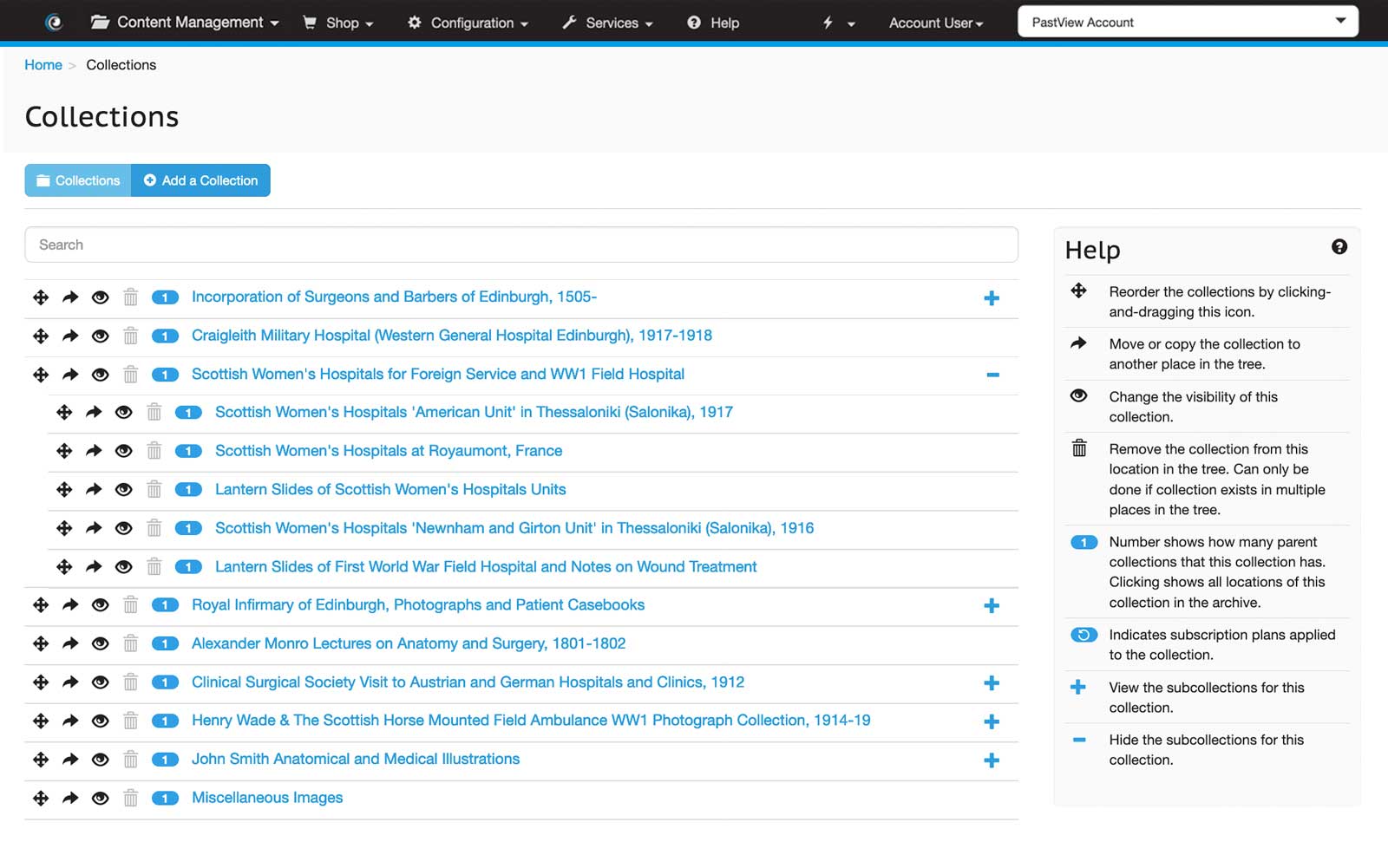 Collection Management
It's important that you have ultimate control over your content and how it works for you, so with PastView the management of your digital collection is in your capable hands. After the initial PastView upload, you can continue adding to your digital archive over time. Organising items in to collections, sub-collections and also assigning attributes is easy. And publishing a 'hidden' collection to your website is achieved by simply switching a toggle from 'hidden' to 'visible'.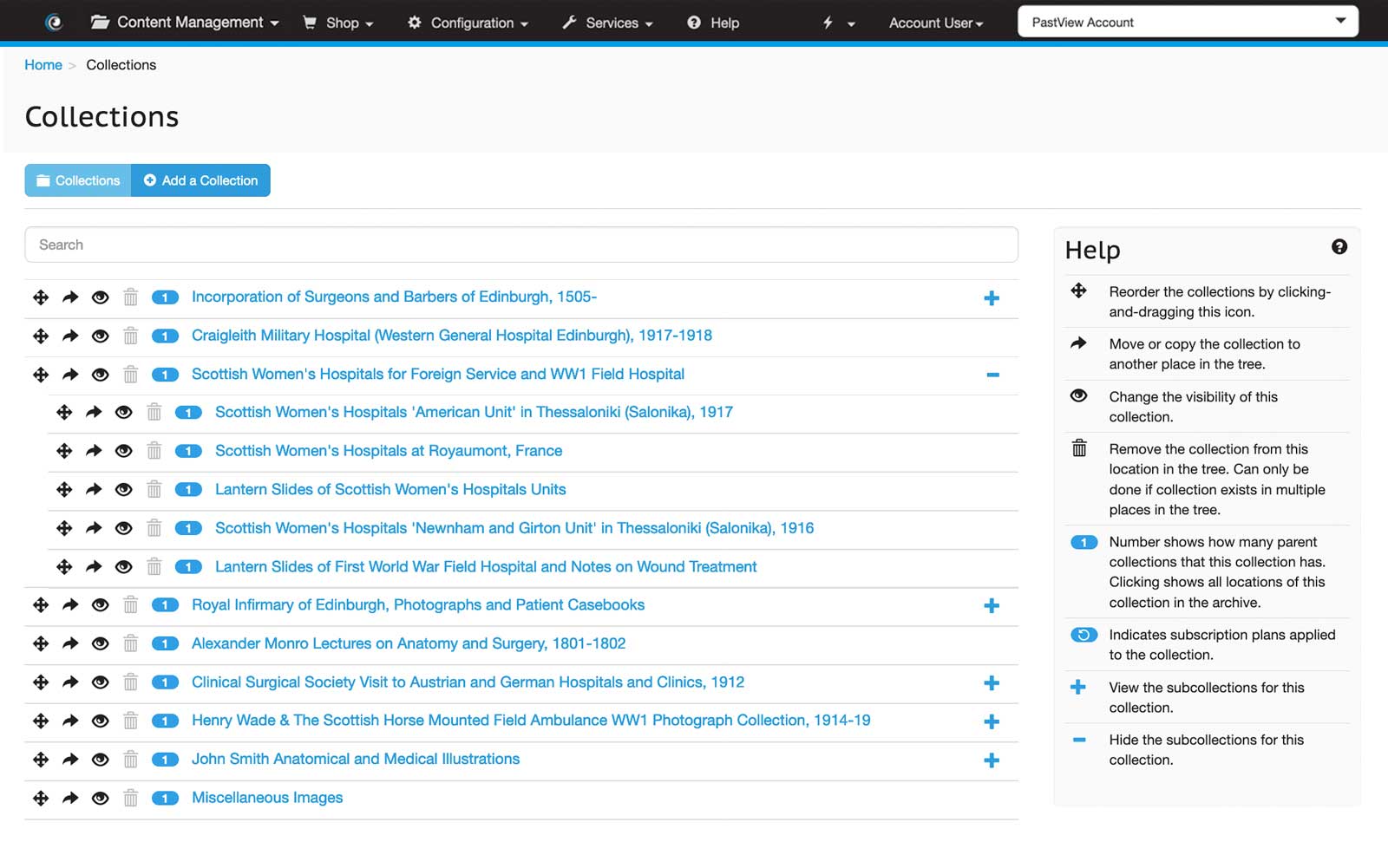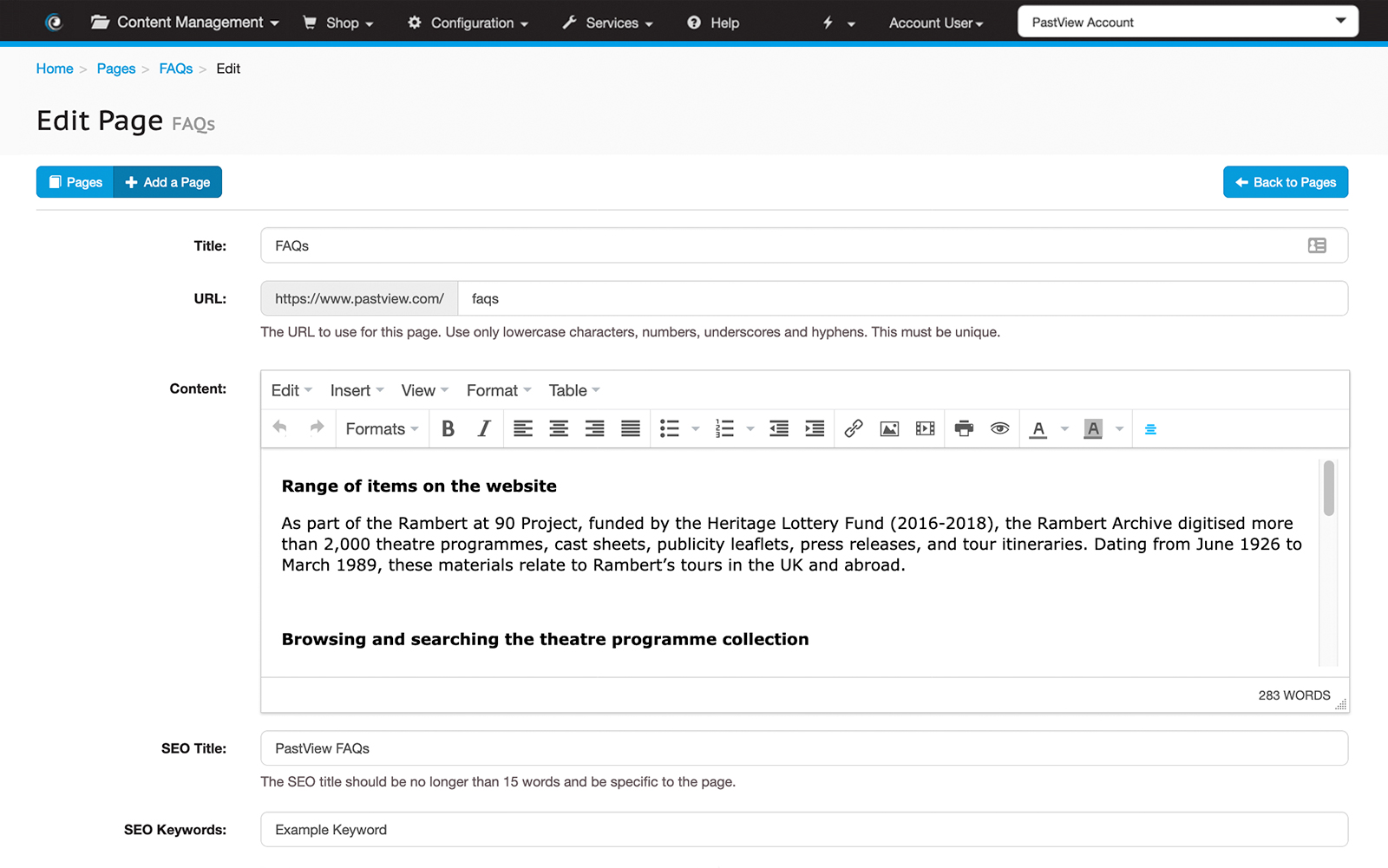 CMS System
PastView allows you to add, manage, remove and link to pages on your website. It allows you to add and edit content too, such as information within your 'home', 'about' or 'contact us' pages. You decide how you would like to manage your content and what you would like to share and then create and name your pages accordingly. Many digital collection owners take advantage of the opportunity to create fund raising pages or provide advertising for their sponsors and stakeholders. For organisations with a proud and far reaching history, for example, it also enables them to share their story, introduce themselves, and talk about their objectives in order to engage with their audience.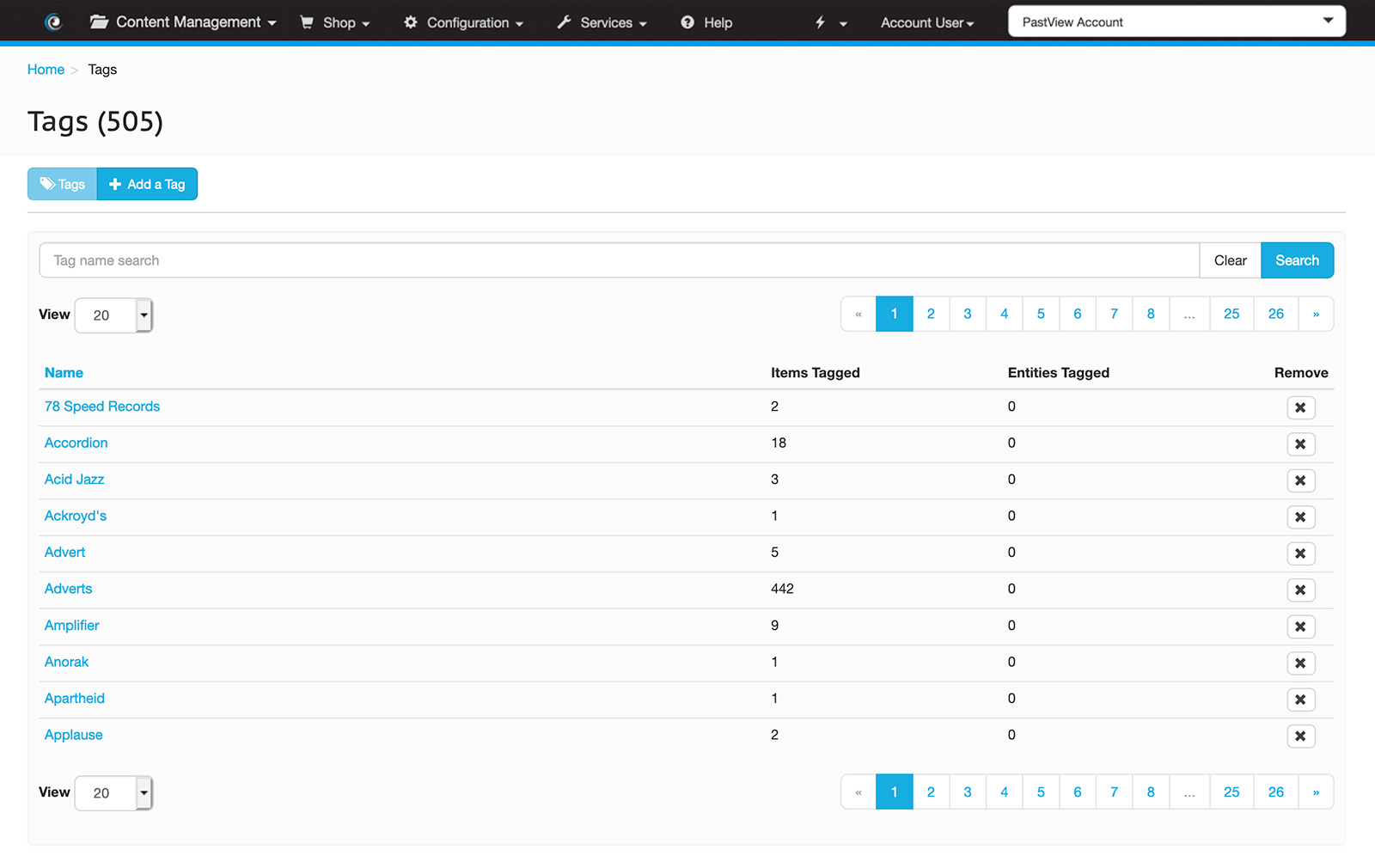 Tagging
There is no doubt about it, digital collections are vast and wonderfully diverse, but this can make connecting items across collections a tricky business. Your users might want to find information about a specific composer, artist or other influential person, but in addition you have a huge amount of varied and supporting material that they might also find fascinating and valuable. Here's where tagging comes in. With PastView Enterprise you can tag items within your collections to other items, such as connecting people through first name and forename, so that searches can trawl and return every item related to it. Suddenly your digital collection has become a comprehensive web of interlinked content. No photograph is left unturned and no journal forgotten.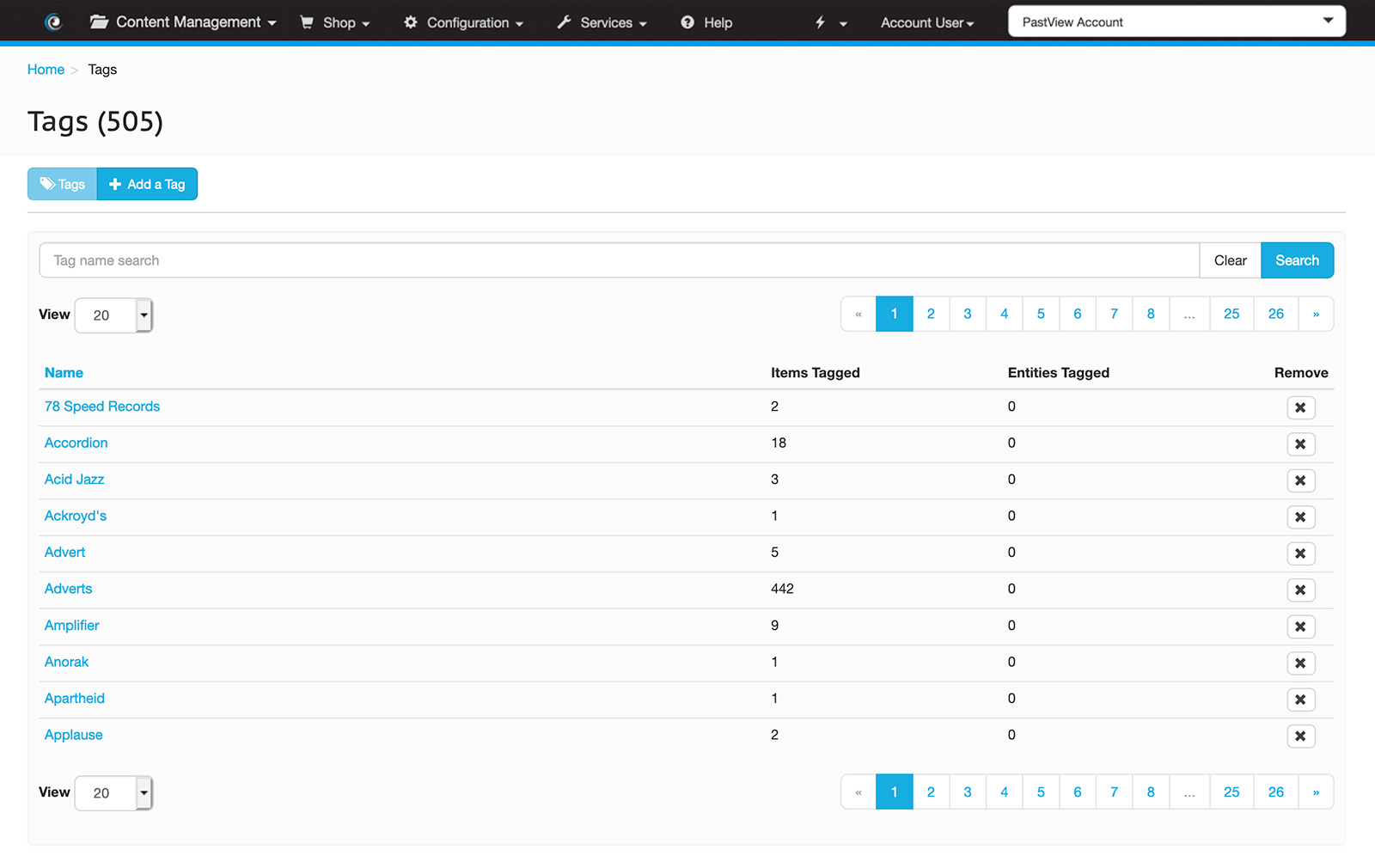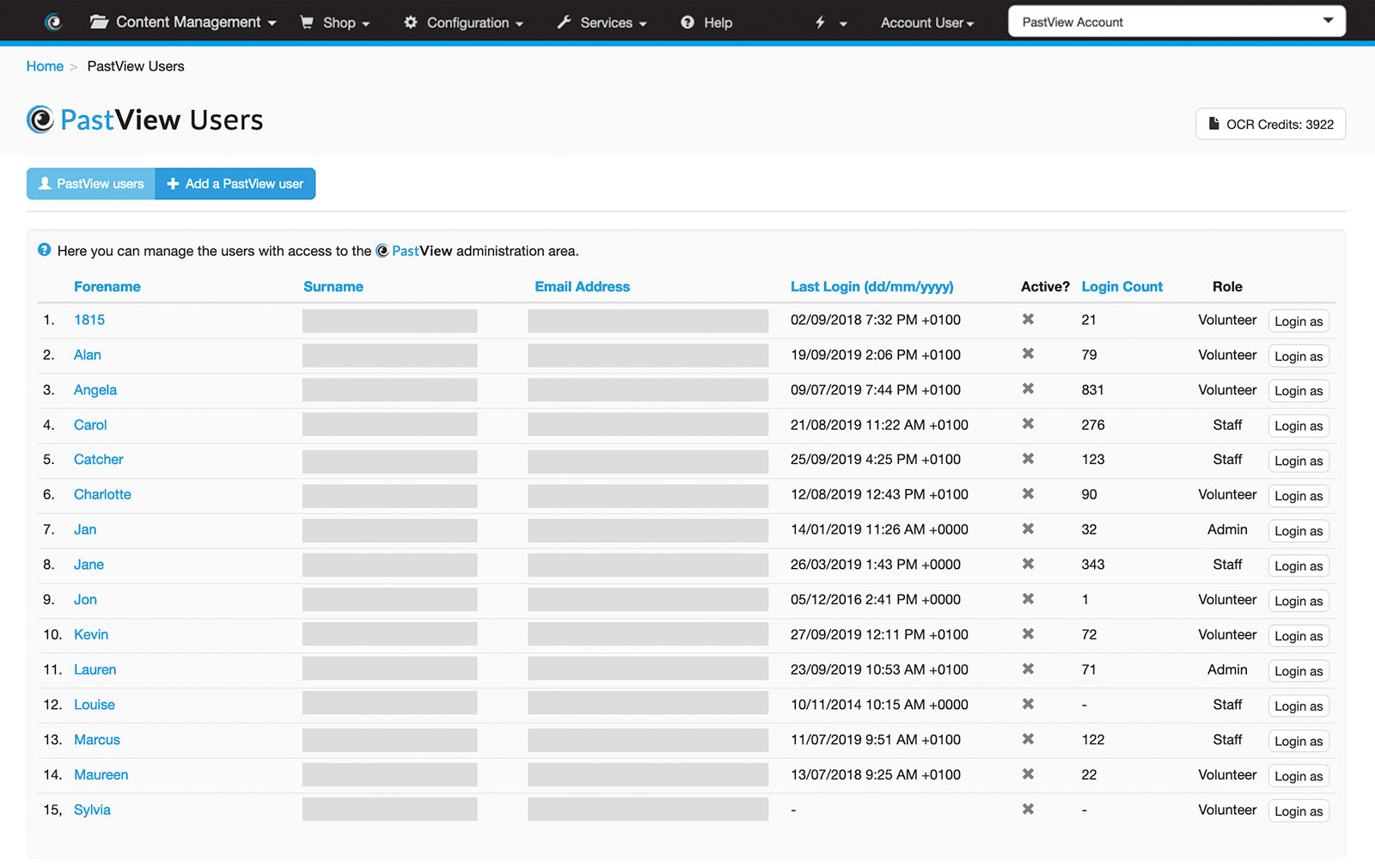 User Management
By default, PastView Enterprise provides three user licences, to enable concurrent access to the user management module. Here you can create any number of additional users in order to access the admin interface and manage, edit or add to your digital collections. For your separate logins you can set different levels of control and accessibility ensuring that, for example, any staff or volunteers inputting data can only access the content and related features necessary to complete the task. There is no danger in something accidentally being changed or edited that you would require to be a permanent feature, such as attributes or entities. This provides the freedom to share tasks and management of the system without putting your collections and data at risk.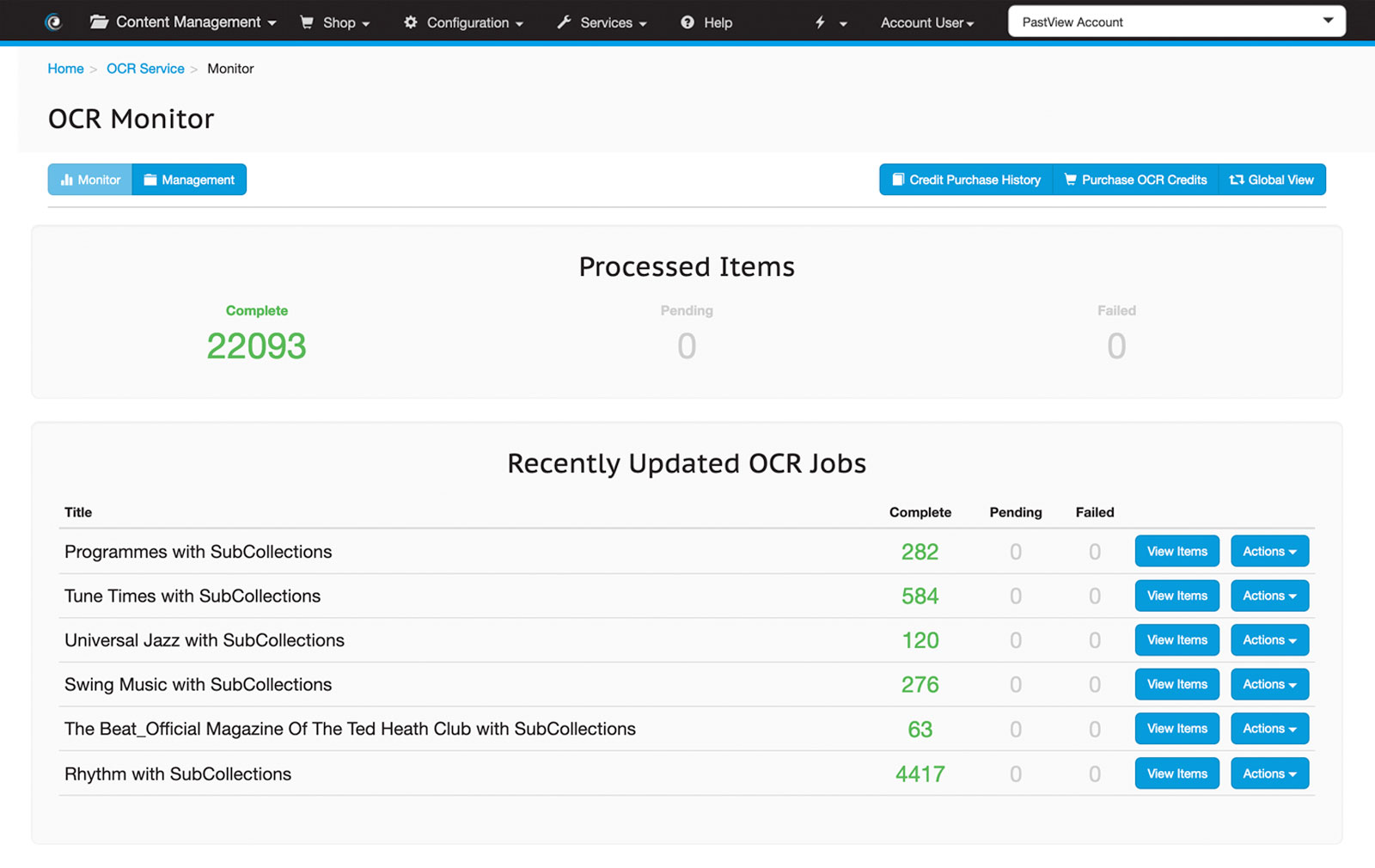 OCR Items on Upload
PastView Enterprise's inbuilt optical character recognition module provides a fantastic solution for searching items, such as journals and newspapers, by making the typed text searchable. By selecting OCR during the initial upload, images will be rendered and any text found will be stored against each item as a permanent record. This allows users to perform a search through your website for the content of a document rather than just a specific field, such as name, date, or volume. The search will trawl all items in your digital collection, matching stored text against the given content, taking the user directly to the page and location where it can be found and highlighting it automatically. It couldn't be easier for your users to find what they are looking for.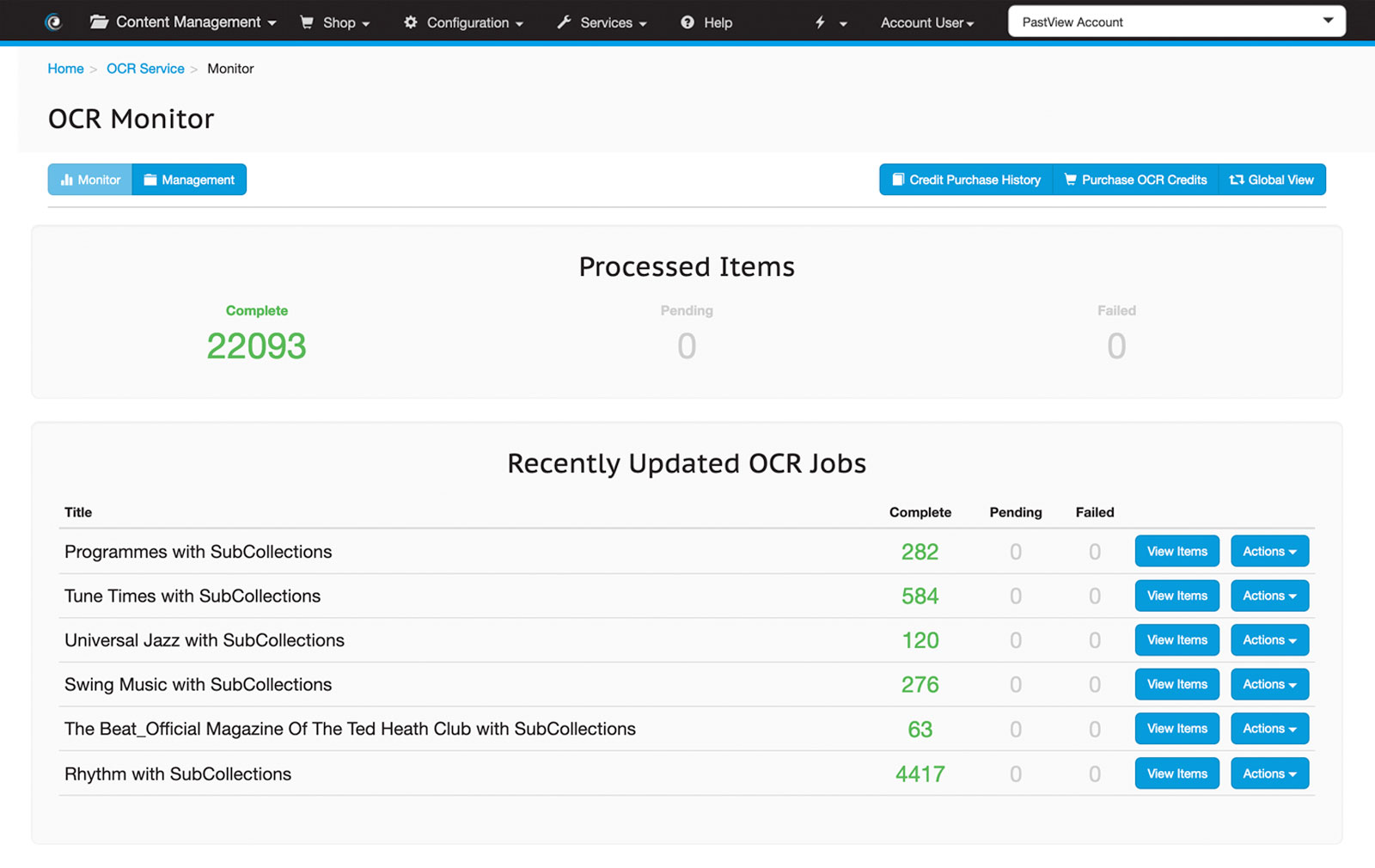 Bulk Importer
After initial upload, you are likely to want to continue adding to your digital collections over time and this couldn't be easier with our brand new import system. The bulk importer allows you to search for the files that you would like to upload, select as many as you wish, and then simply import and allow PastView to do the rest. You can then monitor and manage your imports through the PastView management system to see if any errors have occurred. You can also see who exactly has imported content, how they imported, the progress of the import and when it was performed, before beginning the task of assigning attributes and organising your content.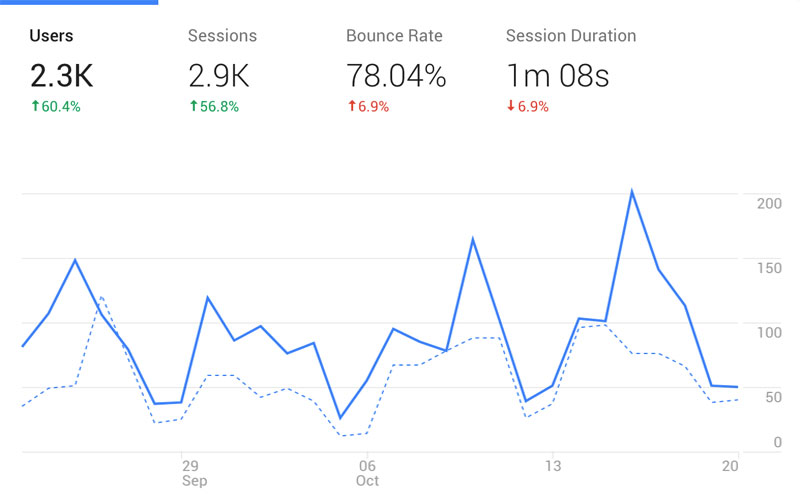 Reporting
Despite it being clear that PastView Enterprise is doing a fantastic job of organising, managing and publishing your data, you will likely want to see, and share with others in your organisation, the data and statistics that are being gathered in the background. It's helpful to know exactly how your content is being accessed so you can establish your user's preferred research habits. You might want to look at visitor trends and work out what items are proving most popular, or monitor your sales. This is something the reporting feature in PastView can do for you, keeping you fully up to date on the progress of your digital collections.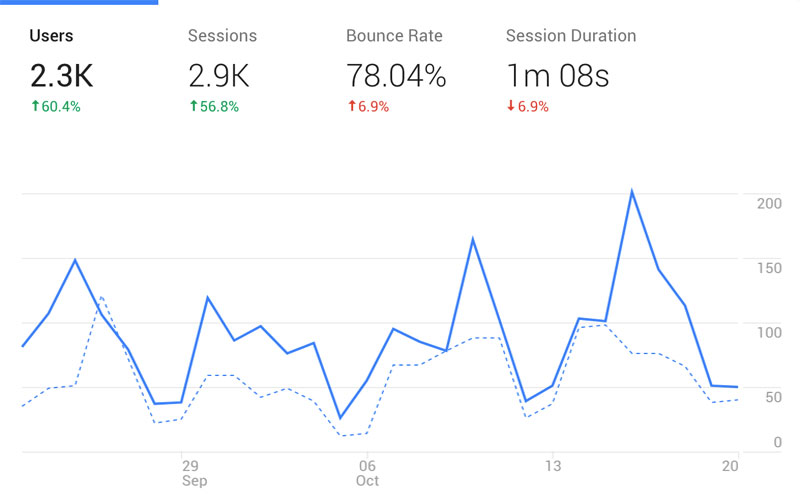 Demonstrations
If you would like to find out more about our services, please contact us or request a free demonstration.

EMAIL US
[email protected]

CALL US
01536 713834

REQUEST A FREE
DEMONSTRATION