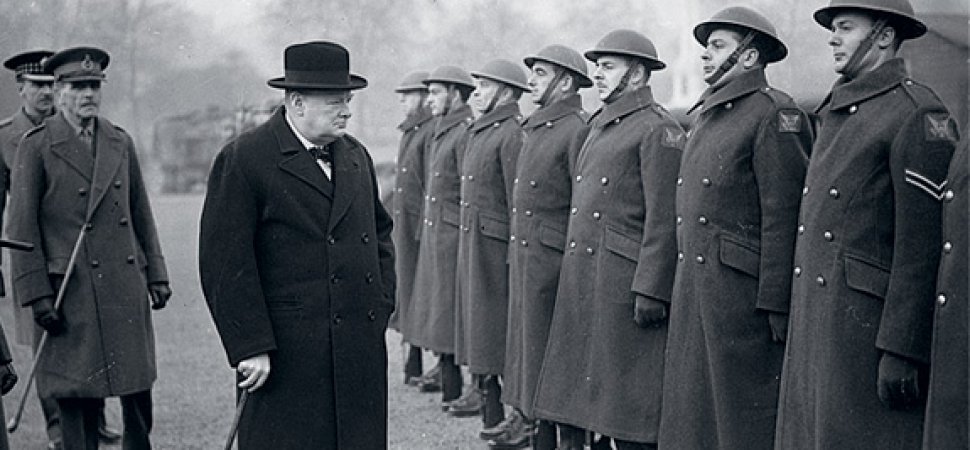 We recently conducted a survey of over 100 military museums and heritage collections in the UK, to build a picture of what proportion of military heritage collections have been digitised.
We also wanted to explore what motivated military museums and archives that have digitised to do so, what barriers were holding back those that hadn't digitised, and what types of military heritage material were digitised most frequently.
The results from the survey respondents were both encouraging and slightly concerning. To help you benchmark where your museum/collection fits in amongst your peers, we have summarised five key findings from the survey data below…
78% of UK Military heritage institutions have Digitised
The most encouraging finding from our research was that almost 80% of military museums and archives surveyed had digitised part of their collections. But this statistic is mixed…
Conversely it also revealed that approximately one fifth of collections have not engaged in any digitisation at all. This suggests that potentially up to 20% of military heritage materials are not preserved in digital form, possibly placing them at risk of being lost due to disaster or deterioration.
Regimental Registers & Photographic collections are most Digitised
Of the various types of heritage archive materials held by the military museums and archives we surveyed, we found that photographic collections (digitised by 72% of respondents) and regimental registers (70%) were digitised most frequently.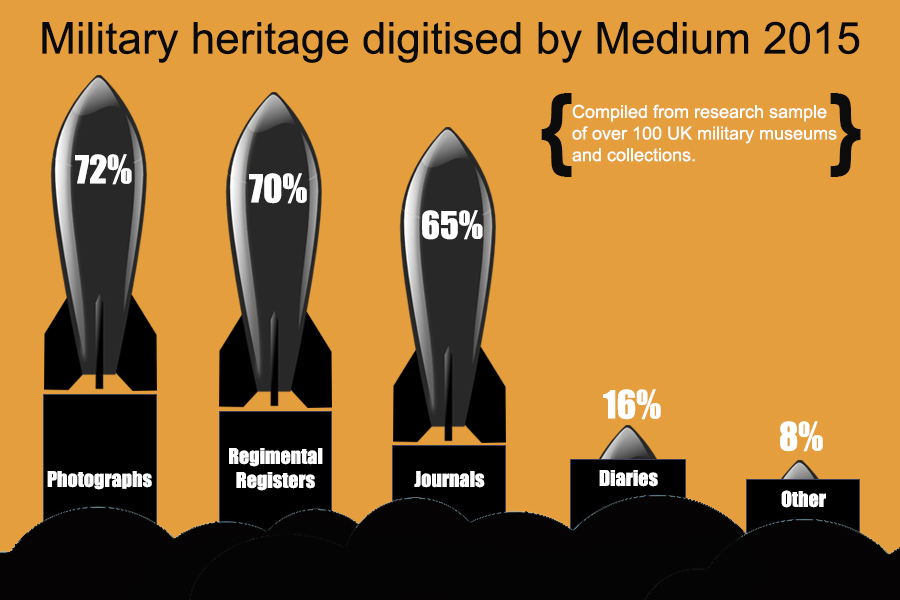 Interestingly, diary collections were digitised least often, with only 16% of respondents having digitised diaries. This is possibly due to the perception that diaries' handwritten content would be of little use in digital format. However crowdsourced transcription projects have proved that handwritten historic archives can be converted into machine readable, searchable resources without incurring a huge cost.
Access & Preservation are key drivers
As is the case with most heritage institutions carrying out digitisation projects, preservation and providing easy access to the collections were the main motives for digitising in 70% of organisations surveyed.
This is unsurprising as having access to digital versions of regimental registers, diaries and other documents can remove the need for constant access to the precious originals. This can save valuable time and effort when performing look ups and answering queries, in addition to decreasing wear and tear on the physical original documents and aiding preservation
44% say Lack of Funding for digitisation is biggest barrier
Lack of financial resources to fund digitisation projects was the most common reason given for not digitising military heritage collections, with 44% of respondents citing this. Whilst this is also a problem of the wider UK heritage sector as a whole, there are sources of digitisation funding available.
35% of Digitised military heritage archives not online
One of the most surprising statistics to emerge from our survey was that, despite 78% of respondents having digitised some content, only 35% had published any of their digitised collections online.
This is potentially a huge missed opportunity. Not only to encourage greater (and easier) engagement with the collections by genealogists and other military historians via the internet, but also to generate potential revenue by selling print reproductions of records and digital downloads online.
Only 17% of survey respondents said that they were currently generating any revenue from their online archive material. This revenue generation model is one that the Royal Military Academy Sandhurst has used to great effect (you can read how here).
A mixed story…
So to summarise, it's clear from the research results that many military collection holders can see the benefits of digitising their materials (evidenced by the 80% who have already engaged in digitisation). However there is still a significant proportion who haven't digitised any of their collection.
What's more, the research suggests that a large segment of those that have digitised are not taking full advantage of the benefits that could be gleaned from placing their digital collections online.
To find out more about our digitisation services for military museums and archives, or for more information about how to publish your collections online, feel free to get in touch with us.